Chapter XVIII - MALA VAGGA - Impurities or Taints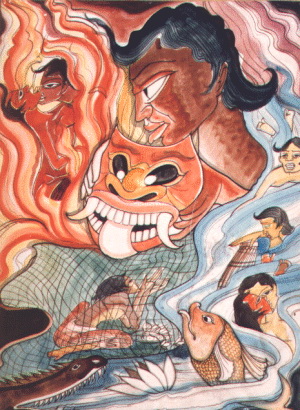 DEFILEMENTS MULTIPLY IN THOSE WHO SEEK OTHERS' FAULTS


Para vajjanupassissa niccam ujjahana sannino
Asava tassa vaddhanti ara so asavakkhaya. [253]
He who sees others' faults, and is ever irritable, the corruptions of such a one grow. He is far from the destruction of corruptions.1[253]


XVIII: 11 The fault-finding monk (Ujjhana Sanni)
Venerable Ujjhana Sanni was always finding fault and speaking ill of others. The matter was reported to the Buddha who said, 'Bhikkhus, if someone finds fault with another so as to teach him good ways, it is not an act of evil and is therefore not blameable. But, if someone is always finding fault with others and speaking ill of them just out of spite and malice, he will not attain concentration and mental absorption (jhana). He will not be able to understand the Dhamma, and moral defilements (asavas) will increase in him.'
Notes:

Namely, the Fruit of Arahanthood. There are four kinds of defilements or corruptions (Asavas), namely, sensual pleasures (kama), becoming (bhava), false views (ditthi), and ignorance (avijja). The first asava is attachment to Sense Sphere, the second is attachment to the Realms of Form and the Formless Realms.