Chapter XIV - BUDDHA VAGGA - The Buddha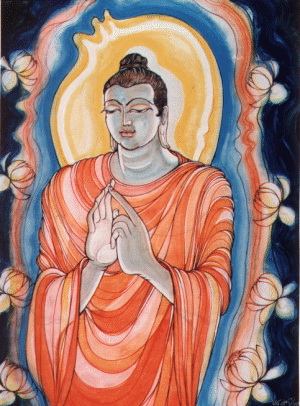 DO GOOD AND BE GOOD
Sabba papassa akaranam kusalassa upasampada
Sacitta pariyodapanam etam buddhana sasanam. [183]
NON-VIOLENCE IS THE CHARACTERISTIC OF AN ASCETIC
Khanti paramam tapo titikkha nibbanam paramam vadanti buddha
Na hi pabbajito parupaghati samano hoti param vihethayanto. [184]
LEAD A PURE AND NOBLE LIFE
Anupavado anupaghato patimokkhe ca samvaro
Mattannuta ca bhattasmim panthan ca sayanasanam
Adhicitte ca ayogo etam buddhana sasanam. [185]
Not to do any evil,1 to cultivate good, to purify one's mind, — this is the Teaching of the Buddhas.2[183]

Forbearing patience is the highest austerity. Nibbana is supreme, say the Buddhas. He, verily, is not a recluse3 who harms another. Nor is he an ascetic 4 who oppresses others. [184]

Not insulting, not harming, restraint according to the Fundamental Moral Code, 5 moderation in food, secluded abode, intent on higher thoughts,6 — this is the Teaching of the Buddhas. [185]


XIV: 04 The Teaching of the Buddha
On one occasion, Venerable Ananda asked the Buddha whether the Fundamental instructions to bhikkhus given by the preceding Buddhas were the same as those of Gotama Buddha himself. The Buddha explained that the instructions given by all the Buddhas were the same. He then recited a few stanzas that were uttered by the previous Buddhas in their religious discourses.
Notes:

What is associated with the three immoral roots of attachment (lobha), illwill (dosa), and delusion (moha) is evil. What is associated with the three moral roots of generosity (alobha), goodwill or loving-kindness (adosa), and wisdom (amoha) is good.
The religion of the Buddha is summarised in this verse.
Pabbajito, one who casts aside his impurities, and has left the world.
Samano, one who has subdued his passions, an ascetic.
Patimokkha, these are the 220 chief rules (excluding the seven ways of settling disputes) which every bhikkhu is expected to observe.
Adhicitta - namely, the eight attainments (atthasmapatti), the four rupa jhanas and the four arupa jhanas. They are higher stages of mental concentration which enable one to gain supernormal powers.