Chapter VIII - SAHASSA VAGGA - Thousands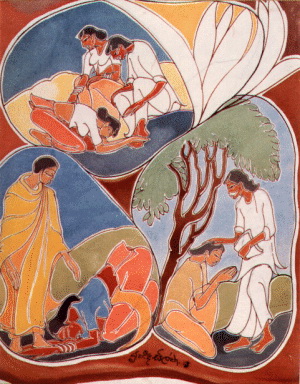 A MOMENT'S HONOUR TO THE PURE IS BETTER THAN A CENTURY OF FIRE-SACRIFICE


Yo ce vassa satam jantu aggim paricare vane
Ekan ca bhavitattanam muhuttam api pujaye
Sa y'eva pujana seyyo yan ce vassasatam hutam. [107]
Though for a century a man should tend the (sacred) fire in the forest, yet, if, only for a moment, he should honour (a Saint) who has perfected himself, - that honour is, indeed, better than a century of fire-sacrifice. [107]


VIII: 06 Fire worshipping is not the way *
On another occasion, Venerable Sariputta asked his nephew, a brahmin, whether he was doing any meritorious deeds. His nephew answered that he had been sacrificing a goat in fire-worship every month, hoping to get to the Brahma world in his next existence. Sariputta then explained to him that his teachers had given him false hopes and that they themselves did not know the way to the Brahma world.
Then he took his. nephew, the young brahmin, to the Buddha. There, the Buddha taught him the Dhamma that would lead one to the Brahma world and said to the brahmin, 'Paying homage to the holy men for a moment would be far better than making sacrifices in fire-worship for a hundred years.'
Notes:

*Fire worshipping was a common practice in Iran and India at that time. Some people regarded the fire element as one of their gods. Some others believed that through fire worshipping they can please the gods in order to receive their blessings and protection.
The other common practices were animal sacrifice and taking bath in holy rivers.
The Buddha was the only religious teacher at that time who pointed out the futility of such practices.