Chapter VIII - SAHASSA VAGGA - Thousands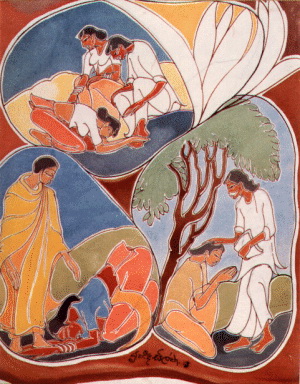 BETTER THAN SACRIFICIAL SLAUGHTER OF ANIMALS IS HONOUR TO THE PURE ONES


Yam kinci ittham va hutam va loke samvaccharam yajetha punnapekho
Sabbam pi tam na catubhagameti abhivadana ujjugatesu seyyo. [108]
In this world whatever gift1 or alms a person seeking merit should offer for a year, all that is not worth a single quarter of the reverence towards the Upright 2 which is excellent. [108]


VIII:07 The brahmin who sacrificed animals
Once Venerable Sariputta asked his friend, a brahmin, whether he was doing any meritorious deeds and he replied that he had been making sacrificial offerings on a big scale, hoping to get to the Brahma world in his next existence. Sariputta told him that his teachers had given him false hopes and that they themselves did not know the way to the Brahma world. Then he took his friend to the Buddha, who showed him the way to the Brahma world. To the friend of Sariputta, the Buddha said, 'Brahmin, paying respect to the Noble Ones (Ariyas) even for a moment is better than making sacrificial offerings, great or small, throughout the year.'
Notes:

According to the commentary ittham is that which is given on festival occasions, and hutam is that which is prepared and given either to guests or with a belief in kamma and results.
The idea conveyed by this stanza is that reverence paid to a Saint is far superior to gifts and alms given to worldlings.
They are the Sotapannas (Stream-Winners) and others who have attained sanctification.