Chapter VIII - SAHASSA VAGGA - Thousands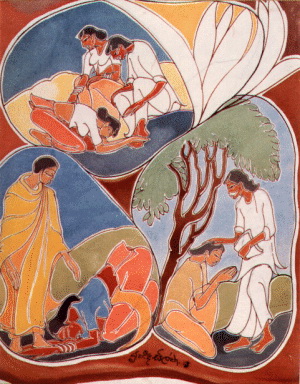 A MOMENT'S HONOUR TO THE WORTHY IS BETTER THAN LONG CONTINUED HONOUR TO THE UNWORTHY


Mase mase sahassena yo yajetha satam samam
Ekan ca bhavitattanam mubuttam api pujaye
Sa y'eva pujana seyyo yan ce vassa satam hutam. [106]
Though month after month with a thousand sacrifices, one should make an offering for a hundred years, yet, if, only for a moment, one should honour (a Saint) who has perfected himself, - that honour is, indeed, better than a century of sacrifice. [106]


VIII: 05 The way to the Brahma world
On one occasion, Venerable Sariputta asked his uncle, a brahmin, whether he was doing any meritorious deeds. The brahmin answered that he was making offerings every month to the naked ascetics, hoping to get to the Brahma world in his next existence. Sariputta then explained to him that his teachers did not know the way to the Brahma world. So saying, he took his uncle to the Buddha, and requested the Buddha to expound the Dhamma, which would surely take one to the Brahma world.
The Buddha said to the brahmin, 'An offering of a spoonful of almsfood to a genuinely holy man would be much better than your offerings to others who are not worthy of honour.'