Chapter XXVI - BRAHMANA VAGGA - The Brahmana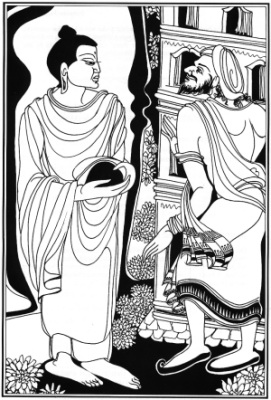 A BRAHMANA IS HE WHO HAS TRANSCENDED GOOD AND EVIL


Yo'dha punnan ca papan ca ubho sangam upaccaga
Asokam virajam suddham tam aham brumi brahmanam. [412]
He who has transcended both good and bad and the ties 1 as well, who is sorrowless, stainless, and pure, - him I call a brahmana. [412]


XXVI: 29 Go beyond good and evil (Revata)
Kana Mata was a devoted lay disciple of the Buddha. Her daughter Kana was married to a man from another village. As Kana had been on a visit to her mother for sometime, her husband sent a message asking her to come home. Her mother requested her to wait for a few more days as she wanted to send along some cakes for her son-in-law.
Notes:

Lust, hatred, delusion, pride, and false views.