Chapter XXIV - TANHA VAGGA - Craving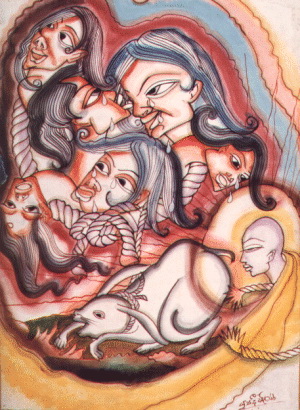 THERE IS SUFFERING AS LONG AS THERE IS CRAVING
Yatha' pi mule anupaddave dalhe chinno' pi rukkho punar eva ruhati
Evam pi tanhanusaye anuhate nibbattati dukkham idam punappunam. [338]
LUSTFUL THOUGHTS ARISE IN HIM WHO HAS CRAVING
Yassa chattimsati sota manapassavana bhusa
Vaha vahanti dudditthim sankappa raganissita. [339]
CUT OFF CRAVING WITH WISDOM
Savanti sabbadhi sota lata ubbhijja titthati
Tan ca disva latam jatam mulam pannaya chindatha. [340]
ATTACHMENT TO SENSUAL PLEASURES LEAD TO BIRTH AND DECAY
Saritani sinehitani ca somanassani bhavanti jantuno
Te satasita sukhesino te ve jati jarupaga nara. [341]
FETTERED BY CRAVING THEY COME TO GRIEF
Tasinaya purakkhata paja parisappanti saso' va badhito
Sannojana sangasatta dukkham upenti punappunam ciraya. [342]
HE WHO DESIRES PASSIONLESSNESS SHOULD DISCARD CRAVING
Tasinaya purakkhata paja parisappanti saso' va badhito
Tasma tasinam vinodaye bhikkhu akankhi viragam attano. [343]
As a tree cut down sprouts forth again if its roots remain uninjured and strong, even so when the roots of craving are not destroyed, this suffering arises again and again. [338]

A man who gives way to pleasure will be swept away by craving 1 and his thoughts 2 will make him suffer, like waves. [339]

The streams (craving) flow everywhere. The creeper (craving) sprouts,3 and stands. 4 Seeing the creeper that has sprung up, with wisdom cut off the roots. [340]

A man's joys are always transient, and since men devote themselves to pleasure, seeking after happiness, they undergo birth and decay. [341]

People beset with craving are terrified like a hare caught in a snare; held fast by fetters and bonds 5 they undergo dukkha (round of rebirths) again and again, for a long time. [342]

People beset with craving are terrified like a hare caught in a snare. Therefore a bhikku who wishes his own passionlessness (Nibbana) should eradicate craving. [343]


XXIV: 02 Effect of good and bad deeds
On one occasion, while the Buddha was on an almsround at Rajagaha, he saw a dirty young female pig and smiled. When questioned by the Venerable Ananda, he replied, 'Ananda, this young pig was a hen during the time of a previous Buddha. As she was staying near a monastery, she used to hear the sound vibration of recitations of the sacred texts. When she died, she was reborn as a princess. One day she noticed maggots in the toilet and became mindful of the loathsomeness of the body, etc. When she died, she was reborn in the Brahma realm as a brahma. But now, due to some evil kamma she accumulated previously, she has been reborn as a pig. Ananda! See how on account of good and evil kamma there is no end to the round of existence.
Notes:

Craving is threefold, viz-craving for sensual pleasures (kamatanha), craving connected with the notion of eternalism (bhavatanha), and craving connected with the notion of nihilism (vibhavatanha). Craving for personal sense-fields, such as eye, ear, nose, tongue, body and mind, and for external sense-fields, such as form, sound, scent, taste, contact, and dhammas (mental objects), when viewed in the foregoing three aspects, divides itself into thirty-six varieties. When they are viewed according to past, present, and future they become one hundred and eight. Bhavatanha may also be interpreted as attachment to life or Realms of Form, and vibhavatanha as attachment to annihilation or Formless Realms.
Through the six sense-doors.
That is, from the six sense-doors.
Resting on the six sense-objects.
There are five kinds of bonds (sanga) - namely, lust, hatred, delusion, pride, and false views.