Chapter XXVI - BRAHMANA VAGGA - The Brahmana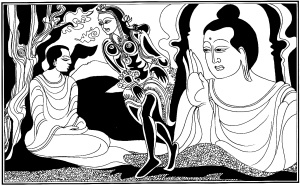 A BRAHMANA IS HE WHO HAS GIVEN UP LIKES AND DISLIKES


Hitva ratin ca aratin ca sitibhutam nirupadhim
Sabba lokabhibhum viram tam aham brumi brahmanam. [418]
He who has given up likes,1 and dislikes, 2 who is cooled and is without defilements,3 who has conquered the world, 4 and is strenuous, - him I call a brahmana. [418]


XXVI: 36 The monk who was a dancer
As in the previous story, the dancer had entered the Order and had attained Arahanthood. The Buddha said, 'Bhikkhus! Nata Puttaka has given up taking delight in all things.'
Notes:

That is, attachment to sense-desires.
Arat i = dislike for forest life. (Commentary)
Upadhi - there are four kinds of upadhi ; - namely, the aggregates (khandha), the passions (kilesa), volitional activities (abhisamkhara), sense-desires (kama).
That is, the world of Aggregates.