Chapter XXVI - BRAHMANA VAGGA - The Brahmana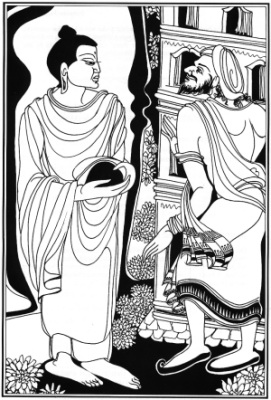 A BRAHMANA IS HE WHO HAS DISCARDED ALL PASSIONS


Yassa rago ca doso ca mano makkho ca patito
Sasapor'iva aragga tam aham brumi brahmanam. [407]
In whom lust, hatred, pride, detraction are fallen off like a mustard seed from the point of a needle, - him I call a brahmana. [407]


XXVI: 24 Arahants have no mental defilements (Maha Panthaka)*
Venerable Maha Panthaka was already an Arahant when his younger brother Cula Panthaka joined the Order. Cula Panthaka was born a dullard because he had made fun of a very dull bhikkhu in one of his past existences. He could not even memorise one verse in four months. Maha Panthaka then suggested it would be better for his younger brother to leave the monastery.
It was in this connection that, on one occasion, the bhikkhus asked the Buddha, 'Do the Arahants still lose their temper? Do they still have mental defilements like ill-will in them?' The Buddha explained, 'Bhikkhus! Arahants have no mental defilements like passion and ill-will in them. My son Maha Panthaka acted as he did with the view of helping his brother and not out of ill-will.'



Editor for Buddha brothers: Matthew Laird Acred

If you should encounter any bugs broken links, or display errors just email us.
Buddha brothers has been running since Aug 2010 and can continue to run with your kind help!
If you love our website please donate so we can make this site even better !!