Chapter XXVI - BRAHMANA VAGGA - The Brahmana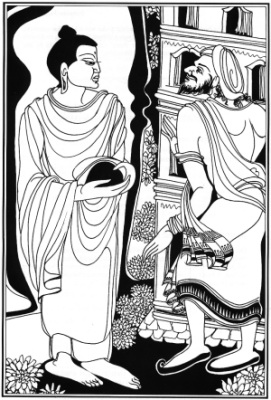 THE NON-POSSESSIVE AND THE NON-ATTACHED PERSON IS A BRAHMANA


Na c'aham brahmanam brumi yonijam mattisambhavam
Bhovadi nama so hoti sa ce hoti sakincano
Akincanam anadanam tam aham brumi brahmanam. [396]
I do not call him a brahmana merely because he is born of a (brahmin) womb or sprung from a (brahmin) mother. He is merely a 'Dear-addresser',1 if he be with impediments. He who is free from impediments, free from clinging, - him I call a brahmana. [396]


XXVI: 13 One cannot become a brahmana by birth
Once, a brahmin from Savatthi thought that since the Buddha called his disciples 'brahmana' he should also be called a 'brahmana' because he was born of brahmin parents. When the brahmin told the Buddha about this, he replied, 'O brahmin, I don't call one a brahmana just because he is born of brahmin parents. I call a brahmana only one who is free from defilements and who has cut off all clinging to existence.'
Notes:

Bho is a familiar form of address which even the Buddha used in addressing laymen. The term Bho-vadi is applied to the Buddha as well.