Chapter XXVI - BRAHMANA VAGGA - The Brahmana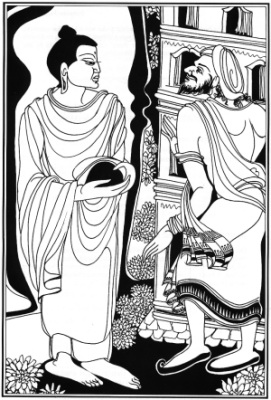 PURE IS HE WHO IS TRUTHFUL AND RIGHTEOUS


Na jatahi na gottena na jacca hoti brahmano
Yamhi saccan ca dhammo ca so suci so ca brahmano. [393]
Not by matted hair, nor by family, nor by birth does one become a brahmana. But in whom there exist both truth1 and righteousness, 2 pure is he, a brahmana is he. [393]


XXVI:10 A brahmana is one who has realised the Dhamma
Once, a brahmin ascetic thought that the Buddha called his disciples 'brahmana' and that being a brahmin by birth he should also be called a 'brahmana.' Thinking thus, he went to see the Buddha and put forward his view. The Buddha did not accept his view and said, 'O brahmin, I don't call one a brahmana because he keeps his hair matted or simply because of his birth. I call one a brahmana only if he fully comprehends the Four Noble Truths.'
Notes:

The realization of the four Noble Truths.
Here Dhamma refers to the nine supramundane States - the four Paths, the four Fruits, and Nibbana.