Chapter XXVI - BRAHMANA VAGGA - The Brahmana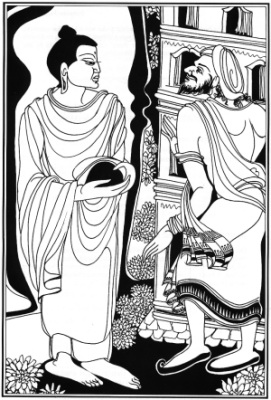 HOLY HAS DISCARDED ALL EVIL


Bahitapapo ti brahmano samacariya samano' ti vuccati
Pabbajay' attano malam tasma pabbajito' ti vuccati. [388]
Because he has discarded evil, he is called a brahmana; because he lives in peace, 1 he is called a samana; because he gives up the impurities, he is called a pabbajita 2 -- recluse. [388]


XXVI: 06 Not every recluse is a bhikkhu
Once there was a brahmin ascetic in Savatthi. One day, it occurred to him that the Buddha called his disciples ' Pabbajita - bhikkhus' and since he was also a recluse, he should also be called 'pabbajita'. So he went to the Buddha and posed his question. The Buddha replied: 'I don't call a recluse a pabbajita ; a pabbajita is one who has uprooted all defilements and impurities of the mind.
Notes:

Having subdued all evil.
One who leaves the household life for the homeless life of a recluse; in Buddhism it means one who has given up the impurities of the household life to become a bhikkhu.