Chapter XXVI - BRAHMANA VAGGA - The Brahmana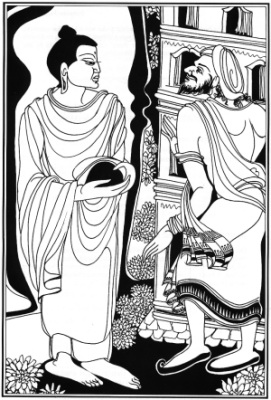 HE WHO IS MEDITATIVE AND PURE IS A BRAHMANA


Jhayim virajam asinam katakiccam anasavam
Uttamattham anuppattam tam aham brumi brahmanam. [386]
He who is meditative,1 stainless and secluded,2 he who has done his duty and is free from corruptions,3 he who has attained the Highest Goal 4 - him I call a brahmana. [386]


XXVI: 04 Who is a real brahmana?
One day, a brahmin thought to himself, 'Gotama Buddha calls his disciples 'brahmana'. I am also a brahmin by caste. I should also be called a brahmana.' So thinking, he went to the Buddha and posed his question. The Buddha replied, 'I don't call one a brahmana simply because of his caste; I only call one a brahmana who has attained Arahanthood*
Notes:

* In Buddhism, Sainthood cannot be conferred on anybody. We have to work to attain Sainthood. All beings have the potential to become Saints by purifying their minds of all mental impurities and defilements.

He who practises concentration (samatha) and insight (vipassana).
Asinam, living alone in the forest.
By realizing the four Truths and eradicating the fetters.
That is, Nibbana.