Chapter XXVI - BRAHMANA VAGGA - The Brahmana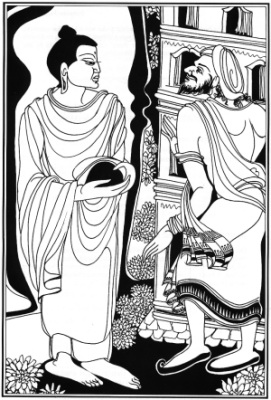 CULTIVATE CONCENTRATION AND INSIGHT


Yada dvayesu dhammesu paragu hoti brahmano
Atha' ssa sabbe samyoga attham gacchanti janato. [384]
When in two states 1 a brahmana goes to the Farther Shore,2 then all the fetters of that 'one who knows' pass away. [384]


XXVI: 02 Tranquillity and Insight
On one occasion, a group of bhikkhus came to pay homage to the Buddha. The Venerable Sariputta, seeing that the time was ripe for those bhikkhus to attain Arahanthood, approached the Buddha and asked a question, solely for the benefit of those bhikkhus. The question was: 'What are the two Dhammas?' The Buddha replied, 'Sariputta! Tranquillity and Insight Meditation are the two Dhammas for maintaining peace and reality in life.'
Notes:

*A bhikkhu is expected to observe the four kinds of Higher Morality:

Concentration (samatha) and Insight (vipassana).
That is, in acquiring higher intellect (abhinna).