Chapter XIX - DHAMMATTHA VAGGA - The Just or Righteous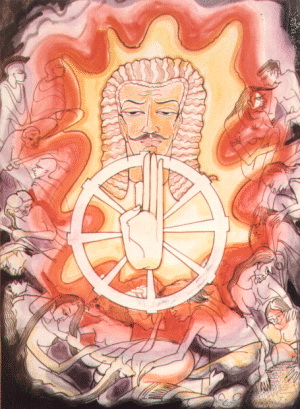 HANDSOME APPEARANCE DOES NOT MAKE ONE GOOD-NATURED
Na vakkarana mattena vanna pokkharataya va
Sadhurupo naro hoti issuki macchari satho. [262]
GOOD-NATURED IS HE WHO HAS GIVEN UP JEALOUSY ETC.
Yassa c'etam samucchinnam mula ghaccam samuhatam
Sa vantadoso medhavi sadhurupo' ti vuccati. [263]
Not by fine talk, nor by good looks is one considered good-hearted, if he were jealous, selfish and deceitful. [262]

A wise man who has cut off, uprooted and removed these and has rid himself of moral defilements is, indeed, called a good-hearted man. [263]


XIX: 05 Pretending to be what they are not
At the monastery, it was customary for young bhikkhus and samaneras to attend on senior bhikkhus who were their teachers. They washed and dyed the robes, or else performed other small services for their teachers. Some bhikkhus noticing these services envied the senior bhikkhus. They wanted to be treated just like them. So they suggested to the Buddha that young bhikkhus and samaneras should come to them also for further instruction and guidance even though they had been taught by their teachers. The Buddha, knowing well their motive, turned down the suggestion and admonished them, 'Bhikkhus! I don't say that you are good-hearted just because you can talk eloquently. Only he who has got rid of all covetousness and all that is evil by following the holy life is to be called a good-hearted man.'